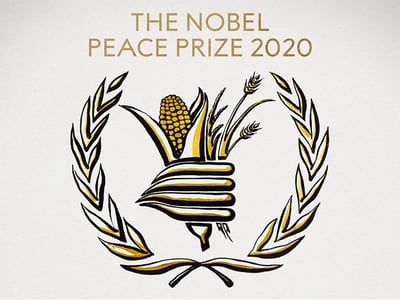 The Nobel Peace Prize committee's announcement of the recipients of the 2020 Nobel prize awards included two current TIND customers: The World Food Programme (TIND ILS) and UC Berkeley (TIND DA).
The World Food Programme was awarded the 2020 Nobel Peace Prize. The World Food Program is the world's largest humanitarian organisation addressing hunger and promoting food security. On the decision: "The Norwegian Nobel Committee has decided to award the Nobel Peace Prize for 2020 to the World Food Programme (WFP) for its efforts to combat hunger, for its contribution to bettering conditions for peace in conflict-affected areas and for acting as a driving force in efforts to prevent the use of hunger as a weapon of war and conflict."
Just days earlier, faculty from The University of California Berkeley were honored with Nobel prizes. UC Berkeley biochemist Jennifer Doudna was awarded the 2020 Nobel Prize in Chemistry, along with her colleague Emmanuelle Charpentier, for the co-development of CRISPR-Cas9, a revolutionary gene-editing tool that allows scientists to rewrite DNA. Reinhard Genzel, a Berkeley professor emeritus of physics and of astronomy was awarded the 2020 Nobel Prize in Physics, sharing the accolade with UCLA professor Andrea Ghez "for the discovery of a supermassive compact object at the center of our galaxy."
The Nobel Prize is not a single prize, but five separate prizes that, according to Alfred Nobel's 1895 will, are awarded "to those who, during the preceding year, have conferred the greatest benefit to humankind." TIND customer institutions already contain a host of Nobel laureates, with Caltech alone, a user of the TIND ILS and TIND RDM products, boasting 76 winners, including 40 alumni and faculty members.
TIND is honored to work with such pioneering institutions and congratulates the recipients, and the institutions that support them, on their contributions to the betterment of humanity.

Announcement of the awards can be found here:
World Food Programme

UC Berkeley