We're a small group with big ambitions and we want to make a great impression. We care about the library's mission but most of us have engineering and design backgrounds. While we may not sit at the reference desk or catalog new items, we think these services and the countless others offered by libraries are of great benefit not just to the patrons who are directly involved, but for all society. That's why we're excited to provide libraries with a product that can beat a lot of the existing tools.
For the past several decades libraries have been using the same software from the same small group of companies and there hasn't been a lot of innovation. This is understandable because, as the saying goes, "If it ain't broke, don't fix it", but there is a hidden cost to operating in this way. Acting cautiously means there is a lower possibility for failures, but the opportunity for innovation and improvements is stunted.
The library mission is to advance knowledge and foster creativity by removing barriers to information. The open access movement in publishing and the open source movement in software development are examples of these ideals and yet they are not as widely seen in libraries as one might expect. TIND has a solution.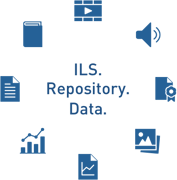 Invenio is free open source software with a main development team at CERN and collaborators from around the world. The original purpose of the software was to manage CERN's collection of more than a million records for high-energy physics, but it was designed to be flexible. That foresight means that it is now a comprehensive tool for addressing the varied needs of a modern library. It can be used to run a institutional repository, research data repository, or an integrated library system (ILS). TIND can tailor the software to manage the whole pipeline of ILS needs including ingestion, classification, indexing, collection curation, dissemination, and patron privileges.

We're not selling Invenio. It's already available to anyone at no cost. Even if it wasn't free, it would sell itself. It is amazing software because it just works. We are selling the peace of mind that comes with an expert's guarantee and the clear conscience from knowing you're using an open system. Having a strong relationship with the CERN community of developers means we avoid a lot of the overhead that plagues our competitors and can devote more energy to building excellent partnerships with our clients. The cloud infrastructure we've developed means we can can host, maintain, and update each implementation in a way that scales and is cost effective.
TIND's mission is to remove barriers to information access by using our expertise, talent, and empathy to empower our clients. We accomplish specifically this by providing open and modern tools to our clients without breaking the bank.

Our goals are ultimately in line with those of the libraries of the world.
Be sure to come here for the latest info and news about TIND and related topics. If you'd like to strike up a conversation, this is a great place to do it as well.
- The TIND Team