Chicago, IL and Oslo, Norway – August 25, 2023. The Center for Research Libraries (CRL) has selected TIND Digital Archive to transfer and host its vast digital collection of more than 40 million files. By moving to TIND DA's robust and scalable platform, CRL seeks to improve the discoverability and long-term preservation of these materials. Migrating from a locally created system, CRL highlighted TIND's user-friendly interface and the ability to handle batch operations as key reasons for their decision.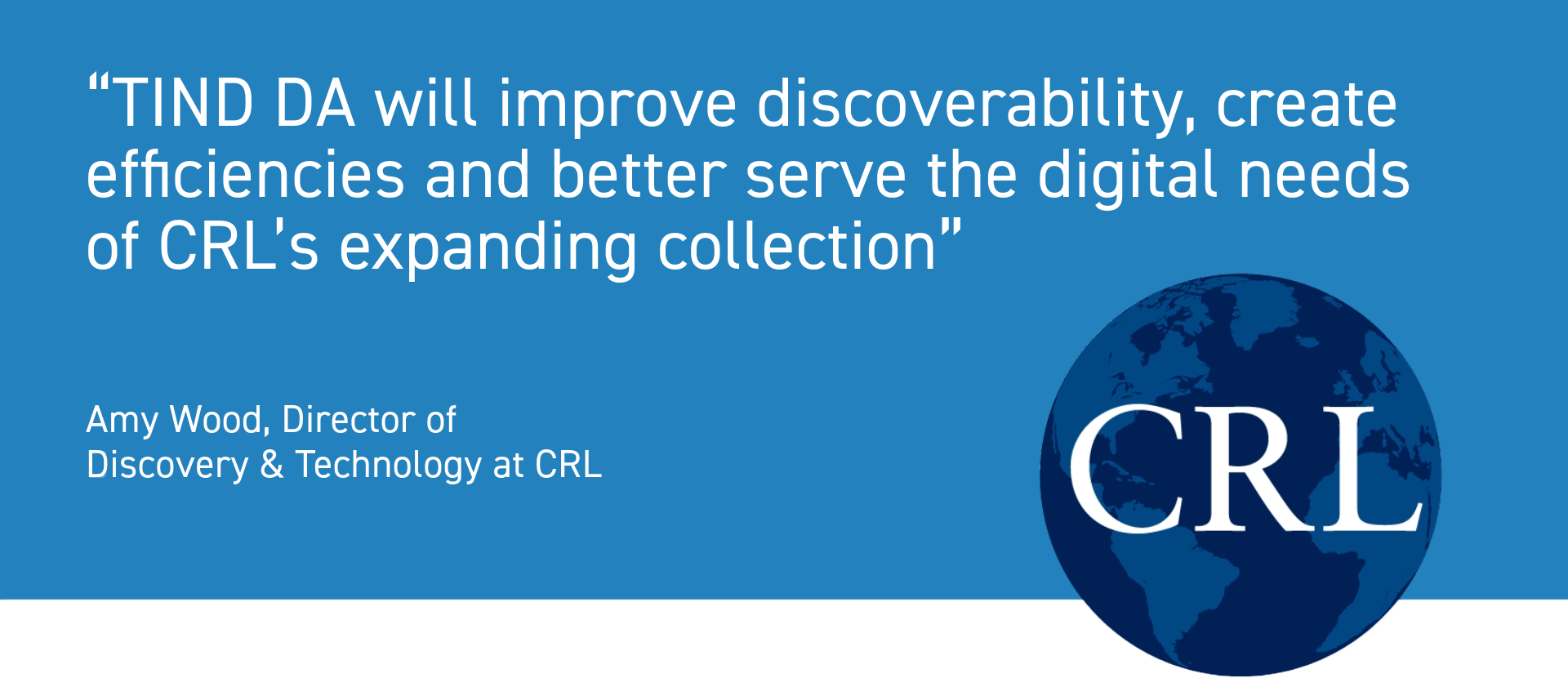 As a consortium of more than 200 academic and research institutions, CRL has a rich and diverse collection of resources that spans newspapers, journals, books, microforms, and government publications. CRL's commitment to providing best-in-class access to its vast digital collection has been a cornerstone of its services for nearly a decade. With over 40 million pages and an annual growth rate of six to seven million pages, CRL sought a robust system that could reliably enhance discovery processes, streamline metadata management, optimize digital workflows, and cater to the expanding needs of their collection.
"For almost a decade, CRL's digitization and digital delivery program have been a core service to ensure CRL members have the best access to their shared collection. CRL found in TIND a system that will reliably enable CRL to improve discovery on multiple levels, work with the metadata we produce for cataloging, create efficiencies within the digital workflow, and better serve the digital needs of CRL's expanding collection," said Amy Wood, Director of Discovery & Technology at CRL. "With TIND's partnership as an innovative technical leader, CRL can focus fully on building its collection and services in other ways."
The user experience of TIND's platform instantly resonated with CRL staff, characterized by its cleanliness, logical structure, and streamlined interface. The system also excelled in handling batch operations, an everyday operational reality for CRL staff working with large volumes of items for transactions and tasks.
"TIND is proud to partner with CRL and to provide a comprehensive, customized solution that meets their unique needs and continues to scale to support their robust collection," said Alexander Nietzold, CEO of TIND.
About the Center for Research Libraries (CRL):
The Center for Research Libraries is an international consortium of university, college, and independent research libraries. Founded in 1949, CRL's mission is to preserve and provide access to unique and rare research materials that are not widely held by individual libraries. With a diverse collection of resources covering a broad range of subjects, CRL fosters collaboration and promotes global access to scholarly materials.

About TIND
TIND is an official CERN spin-off providing commercial library management systems, digital preservation, and research data management solutions based on CERN open-source software. Serving academic, public, and special research libraries around the globe, TIND is headquartered in Oslo, Norway. More info at www.tind.io


Learn more about TIND DA?