Los Alamitos, CA, and Oslo, Norway – September 8, 2023. TIND is pleased to announce the official launch of the digital history archive for the California Interscholastic Federation-Southern Section (CIF-SS). The platform will serve as a central repository capturing over 110 years of articles, photographs, and multimedia materials documenting the history of education-based athletics in Southern California.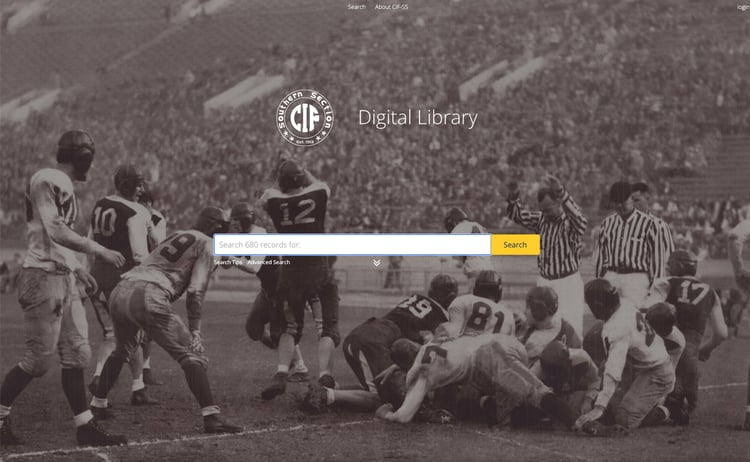 The TIND DA platform was primarily selected for its user-friendly interface and robust features to facilitate content discovery by end users. CIF-SS will also leverage one of TIND's key features: a flexible submission workflow, allowing for an ever-growing and evolving digital collection. This feature ensures the CIF-SS archive will continue to be a dynamic and living resource for years to come.

Assistant Commissioner Thom Simmons expressed excitement about the future prospects of the digital archive and its significance to the CIF-SS community:

"We are simply excited to be able to share the rich history of the CIF-SS. Generations of high school athletes will now have a home to regal their success and achievements. They will be able to share this via a living, breathing data source not previously available. It is my honor and privilege to play a small role in that memory."
About TIND
TIND is an official CERN spin-off providing commercial library management systems, digital preservation, and research data management solutions based on CERN open-source software. Serving academic, public, and special research libraries around the globe, TIND is headquartered in Oslo, Norway. More info at www.tind.io
About CIF-SS
California Interscholastic Federation-Southern Section is a governing body of high school athletics for more than 580 central and southern California schools. It is the largest of the ten sections that comprise the California Interscholastic Federation (CIF). The CIF-SS was founded on March 29, 1913, at the first High School Run Track Championships on the YMCA field.


Want to learn more about TIND DA?