Colorado Springs, CO and Oslo, Norway – July 31, 2020. Colorado College will migrate to a combined TIND IR and TIND DA instance for their newly branded digitalCC multi-media repository, providing archival preservation, curation, and discovery of scholarly publications and digitized special collections. The college migrates to TIND from a locally hosted Fedora Commons datastore.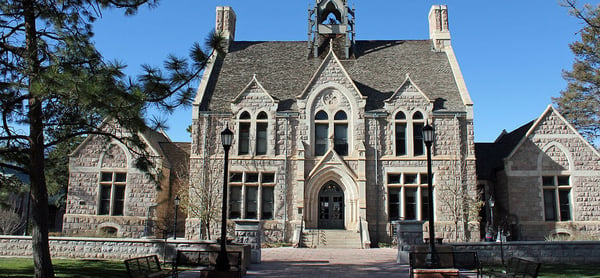 Photo of Cutler Hall by Jeffrey Beall (From Wikimedia Commons)
Cate Geunther, Digital Scholarship and Repository Librarian said of the decision:

"Colorado College is excited to have selected TIND's IR and DA platforms to host our digitalCC repository. TIND ranked highest in our search for a modern platform with robust search options and a company that would continue to develop features that will benefit our community. We look forward to working with them to develop a number of exciting new features for our users that weren't possible or were cost prohibitive with other platforms, such as open access journal publishing and scholar profiles."
Implementation and development is well underway and the system is expected to go live over the coming months. "We're quite pleased to have found another development partner as engaged as Colorado College. Working closely with our partner libraries to build a best-in-breed solution together is the backbone of what we do here at TIND." said Alexander Nietzold, CEO at TIND.
About TIND
TIND is an official CERN spin-off providing library management systems, digital preservation- and research data management solutions based on CERN open source software (Invenio). More info at www.tind.io
About Colorado College
Colorado College is a private liberal arts college in Colorado Springs, Colorado. It was founded in 1874 by Reverend Thomas Nelson Haskell. The college offers more than 80 majors, minors, and specialized programs for approximately 2,000 undergraduate students. Colorado College uses a unique "Block Plan" for instruction, wherein students take only one class at a time, for three and a half weeks, followed by four and a half days off.
Alexander Nietzold
CEO
TIND
alexander@tind.io