Ipswich, MA and Oslo, Norway – August 23, 2018

.

A new partnership between

GOBI Library Solutions from EBSCO and TIND

is aimed at streamlining GOBI acquisitions for TIND libraries. Libraries using the TIND ILS are now able to use new functionality to streamline the acquisitions process. Utilizing the GobiAPI will allow TIND systems to fully integrate with the GOBI platform in real-time, facilitating the immediate transfer of bibliographic and order data from GOBI to TIND ILS.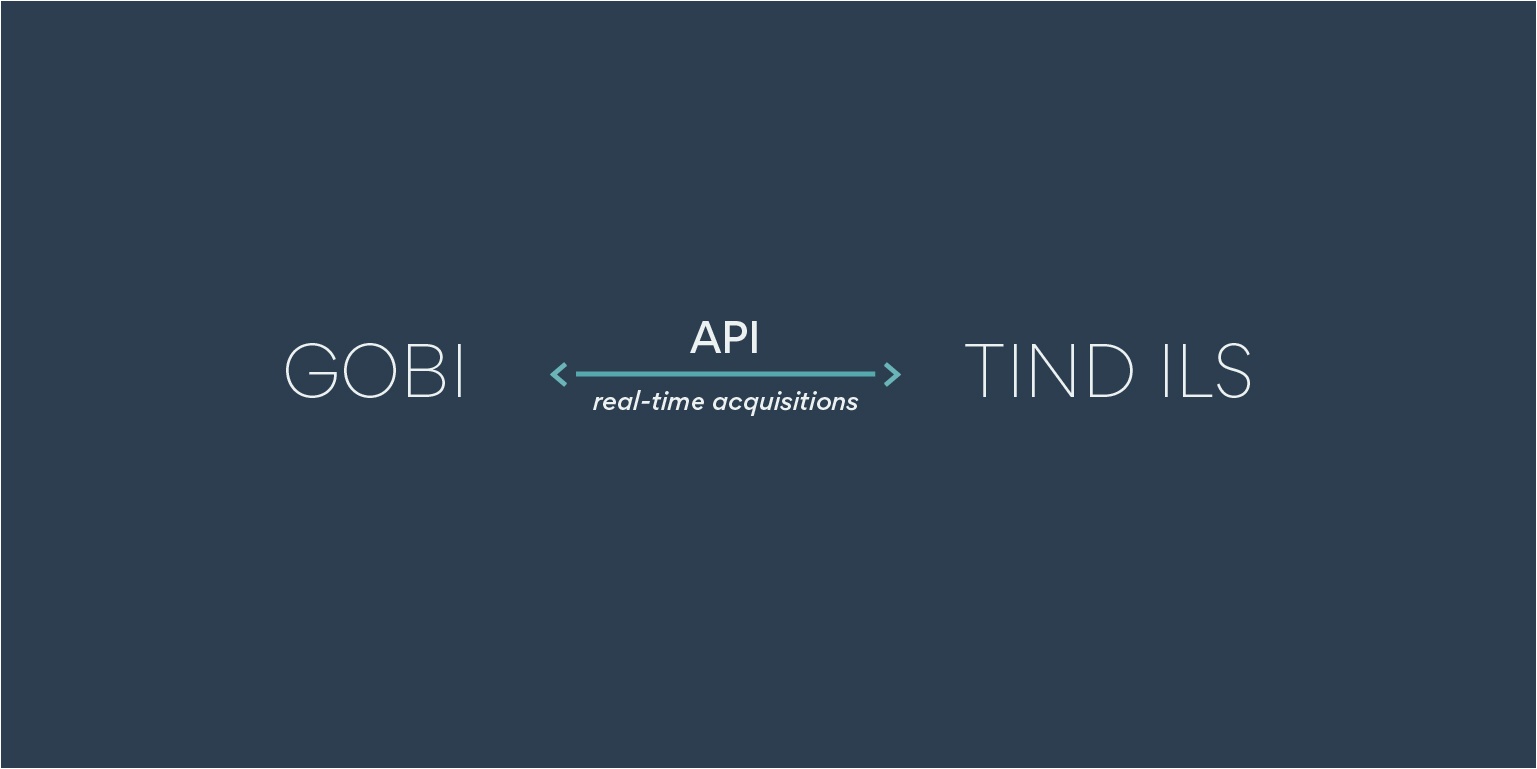 This partnership will enable TIND ILS users to easily search for e-book and print titles in the extensive GOBI online catalog. All orders placed in GOBI will be automatically delivered to TIND ILS, creating a brief bibliographic and order record in the ILS. The API service, which will work on TIND ILS Version 1.6 and higher, will further enhance the workflow process and make it easier and more efficient for customers to locate titles and place orders.
GOBI Library Solutions Chief Operating Officer Darby Kopp says GOBI's partnership with TIND enhances the ability to provide the most efficient, streamlined workflows to customers. "As a major supplier of e-books and print books for libraries, GOBI Library Solutions is committed to partnering with ILS vendors like TIND to help make workflows more efficient for libraries and their patrons. The integration of GOBI with TIND gives librarians the assistance they need to better streamline their acquisitions process and, ultimately, better serve the end user."
"As part of TIND's acquisitions development partnership with the UC Berkeley Law Library, it was a natural step to pursue an API integration with GOBI. It's modern, simple and efficient. GOBI is a great example of a modern platform that is easy to integrate with," says Alexander Nietzold, CEO at TIND.
GOBI customers interested in learning more and setting up the workflow should contact their GOBI representative. For more information, visit the GOBI Library Solutions website at: gobi.ebsco.com.
About TIND
TIND is an official CERN spin-off providing library management systems, digital preservation- and research data management solutions based on CERN open source software (Invenio). More info at www.tind.io
About GOBI
GOBI® Library Solutions from EBSCO, formerly YBP Library Services, offers over 15 million print and e-books to academic, research and special libraries worldwide. From streamlining workflows to partnering with library staff, GOBI Library Solutions is committed to providing the best solution for libraries' acquisition, collection development and technical service needs. For more than 40 years, the mission has remained same—to partner with libraries in providing access to the broadest selection of scholarly content available. For more information, visit the GOBI Library Solutions website at: gobi.ebsco.com.


About EBSCO Information Services
EBSCO Information Services (EBSCO) is the leading discovery service provider for libraries worldwide with more than 11,000 discovery customers in over 100 countries. EBSCO Discovery Service™ (EDS) provides each institution with a comprehensive, single search box for its entire collection, offering unparalleled relevance ranking quality and extensive customization. EBSCO is also the preeminent provider of online research content for libraries, including hundreds of research databases, historical archives, point-of-care medical reference, and corporate learning tools serving millions of end users at tens of thousands of institutions. EBSCO is the leading provider of electronic journals & books for libraries, with subscription management for more than 360,000 serials, including more than 57,000 e-journals, as well as online access to more than 1,000,000 e-books. For more information, visit the EBSCO website at: www.ebsco.com. EBSCO Information Services is a division of EBSCO Industries Inc., a family-owned company since 1944.
For more information please contact:
Alexander Nietzold
CEO
TIND
alexander@tind.io

Kathleen McEvoy
Vice President of Communications
kmcevoy@ebsco.com
Interested in learning more about the TIND ILS?