Boston, MA and Oslo, Norway - November 23, 2021 - TIND, a spin off from CERN specializing in innovative library software solutions, announced today that Matt Hall has joined their expanding team as VP of Business Development. In this role, Hall will be responsible for building out TIND's global sales program and team.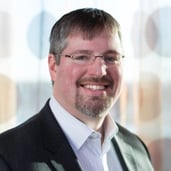 Hall brings more than two decades of edtech sales experience, working across the spectrum from start-up to enterprise level education software companies. Prior to joining TIND, Hall was EVP of Education for Netop, a Danish company, overseeing their operations to the global education market. No stranger to start-ups or scale-ups, Hall was one of the early team members at SerialsSolutions, starting as the sole sales representative before scaling the sales department, seeing the company through the acquisition by ProQuest, and later growing the product reach in Asia Pacific and Latin America.
"I am eager to get back to working with academic and research libraries and have been really impressed by TIND's approach to building software in a space that has suffered from massive consolidation and a lack of innovation," said Mr. Hall. "TIND is in a rapid scale-up phase and I feel I have a lot of relevant experience to bring to the company at this critical growth phase. I am excited to come onboard as part of the team to deliver real value and drive needed change in the market."
Based in Portland, Oregon, Hall will be responsible for global sales across TIND's suite of products, including TIND ILS, IR, DA and RDM. With plans for continued expansion, Hall will be charged with expanding TIND's global sales team and go-to-market strategy.
"Matt brings the ideal experience to the role and is well placed to expand our presence in the market." said Alexander Nietzold, CEO of TIND. " I appreciate his deep market knowledge and his dedication to understanding our products and our customer needs. He is a great fit for the role and a really great addition to the TIND team."