Boston, MA and Oslo, Norway - June 15, 2021. TIND, a spin off from CERN specializing in library software solutions, today announced that it is continuing to expand its team with the appointment of Andrew French as VP Product Management. French brings more than a decade of library technology and archive experience since graduating from the Simmons College Library and Information Science & Archives Management Program.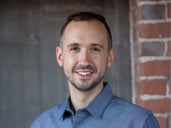 Throughout his career French has been instrumental in transitioning the industry away from legacy systems and promoting open system development, management, and innovation. French joins TIND from Preservica where he promoted archival digital preservation software as the Director of Solutions Architecture and ProQuest, where he helped usher in the Ex Libris Alma platform from its early beta release to market peak.

"I have been following the concept of data unity since serving on the steering committee of the 2010 Art Museum Libraries Symposium," French said. "The integration of print, electronic, and digital resources within library and archival systems has been an important development, and a key factor in pushing libraries to reconsider legacy workflows and systems."
"TIND is an independent and open vendor with a portfolio of products across the research spectrum. Administrators in libraries and archives are rethinking their intuitions' traditional relationship to data ownership, security, and collection availability and TIND is supportive of that."
"I am delighted to be joining TIND at this exciting phase in the company's growth and look forward to working with such a talented and customer-focused team to deliver products and services that delight our library partners."
Based in Boston, Massachusetts, French will relocate to Oslo, Norway in 2022 to work more closely with the TIND product and development teams.
"Andrew has the perfect mix of customer-centric and systems-centric product experience and a true passion for driving change in the industry." Alexander Nietzold, TIND CEO, said. "With his deep knowledge and experience with next generation integrated library systems, digital preservation, discovery, research data, and digital asset management systems, Andrew will be an integral part of the TIND team as we scale our products and company."